When to serve ice cream is often a question I get asked by wedding couples. There are lots of options and it is totally up to the couple when they decide, but I am always happy to advise them and give them some ideas. There are lots of ways ice cream can be a part of the wedding day, providing guests with a delicious cold treat. Having my ice cream van at the wedding, serving mouthwatering gelato and traditional soft serve ice cream as well as the lovely ice lollies is such a treat for every guest, especially if you are having a summer or outdoor wedding.
At The Church
How about having my vintage ice cream van sitting outside the Church? I am in position with "Lottie" my ice cream van, for when guests arrive so they can see me and know they can come for an ice cream after the ceremony. There is often some standing around for guests straight after the wedding ceremony and they really enjoy coming for an ice cream and chatting to the other guests whilst enjoying their cold treat. It occupies them whilst the wedding photographer is busy taking close friends and family pictures. It is also a great way to keep any of the younger guests happy! The Vicar is often first in the queue! After everyone has enjoyed their treat, guests can head off to the wedding venue.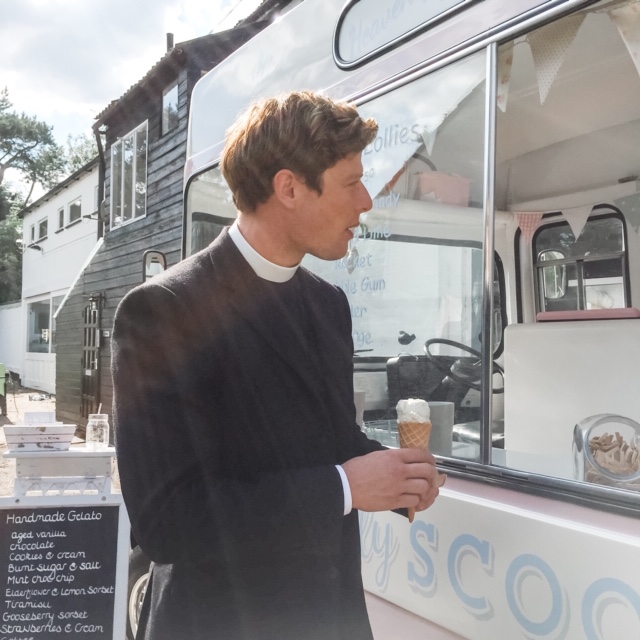 At The Drinks Reception
During the drinks reception is one of the most popular choices couples ask me to serve my ice cream. It is a lovely touch to have ice cream alongside the canapés. Wedding guests are usually offered a welcome drink from the newly married couple and then they can head over to my van and choose an ice cream. Some couples decide to have ice cream instead of canapés. The drinks reception usually lasts for about an hour to an hour and a half, which is plenty of time for everyone to have a leisurely ice cream. Quite often the newly married couple will come on board "Lottie" and have a great time serving some of their guests.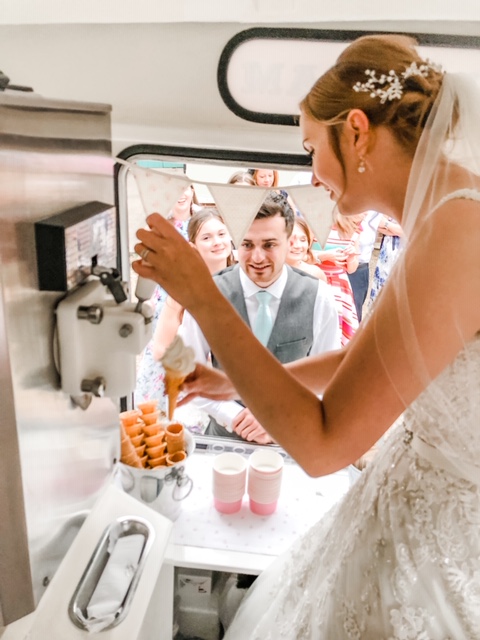 Dessert After The Wedding Breakfast
Another popular option chosen by wedding couples is to have the ice cream on their wedding day as a dessert option after the main meal. This works well if you are having an outdoor wedding and perhaps a hog roast, fish and chip van or a BBQ as a main meal. There are also lots of lovely food trucks who serve the most amazing artisan food. Wood Fired Pizzas are a really popular choice at the moment and serving ice cream afterwards is ideal. I thoroughly recommend any of the other traders I serve alongside at Cambridge Foodpark. A popular idea for smaller weddings is to have an afternoon tea and then ice cream as a dessert. Children love to come on board the ice cream van and help me serve the other guests. This is a great photo opportunity for the wedding photographer or videographer.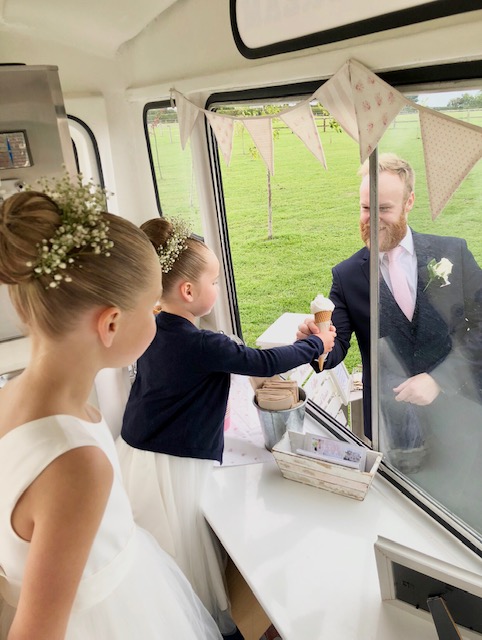 Late Afternoon
Sometimes there is quite a long time after the wedding breakfast until the evening guests arrive. This often happens if it has been an early ceremony. Evening guests usually arrive from 7pm and if the wedding was before 2pm then there is a lot of sitting around for the day guests. Garden games and an ice cream van can help keep everyone entertained and nice and cool if it is a hot day.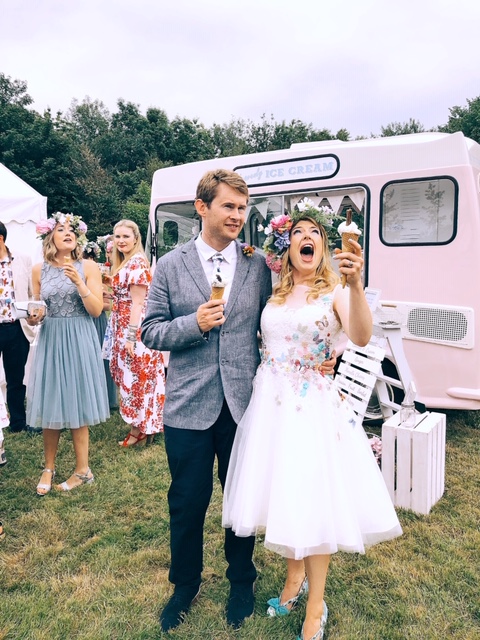 Evening Reception
This is another time I get asked to serve my ice cream quite a lot. Sometimes it is as a welcome treat for the evening guests when they first arrive, or it can be after any other food the evening guests are having. A buffet style or another street food van are once again popular choices for evening food. My vintage ice cream van has internal lighting, so if it starts to get dark, she looks really pretty lit up. Wedding guests take a token from beside the van and can exchange it for a treat of their choice, all courtesy of the happy wedding couple.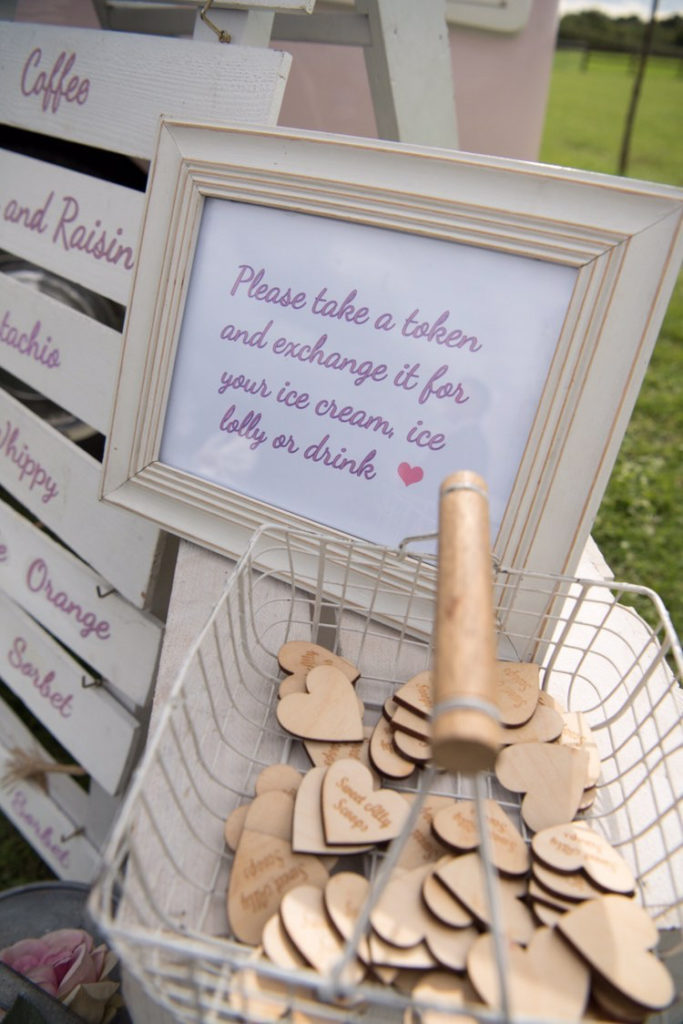 Whichever time you choose, anytime can be ice cream time!!